With such an active and engaged community, it means that our riders are always looking to get as much racing in as possible. The weekly Team Time Trial (TTT) happens every Thursday and is a great way to race as a team in a collaborative format.
Unlike in Zwift Racing League, we also allow guests to race with us in the Thursday TTT. So, if you are unsure about joining, but would like to have a team to TTT with then join the Discord server and let a member of the team know.
Check out the table below for a full overview of all our teams and timezones.
TTT Teams
In total we have 22 TTT teams, although it does change every week as to how many we field. The WTRL categories and timezones can be a "little" confusing to the uninitiated so check out the following two images below to see when you would like to ride and in what class. Then compare that against the list of teams at the bottom of this page.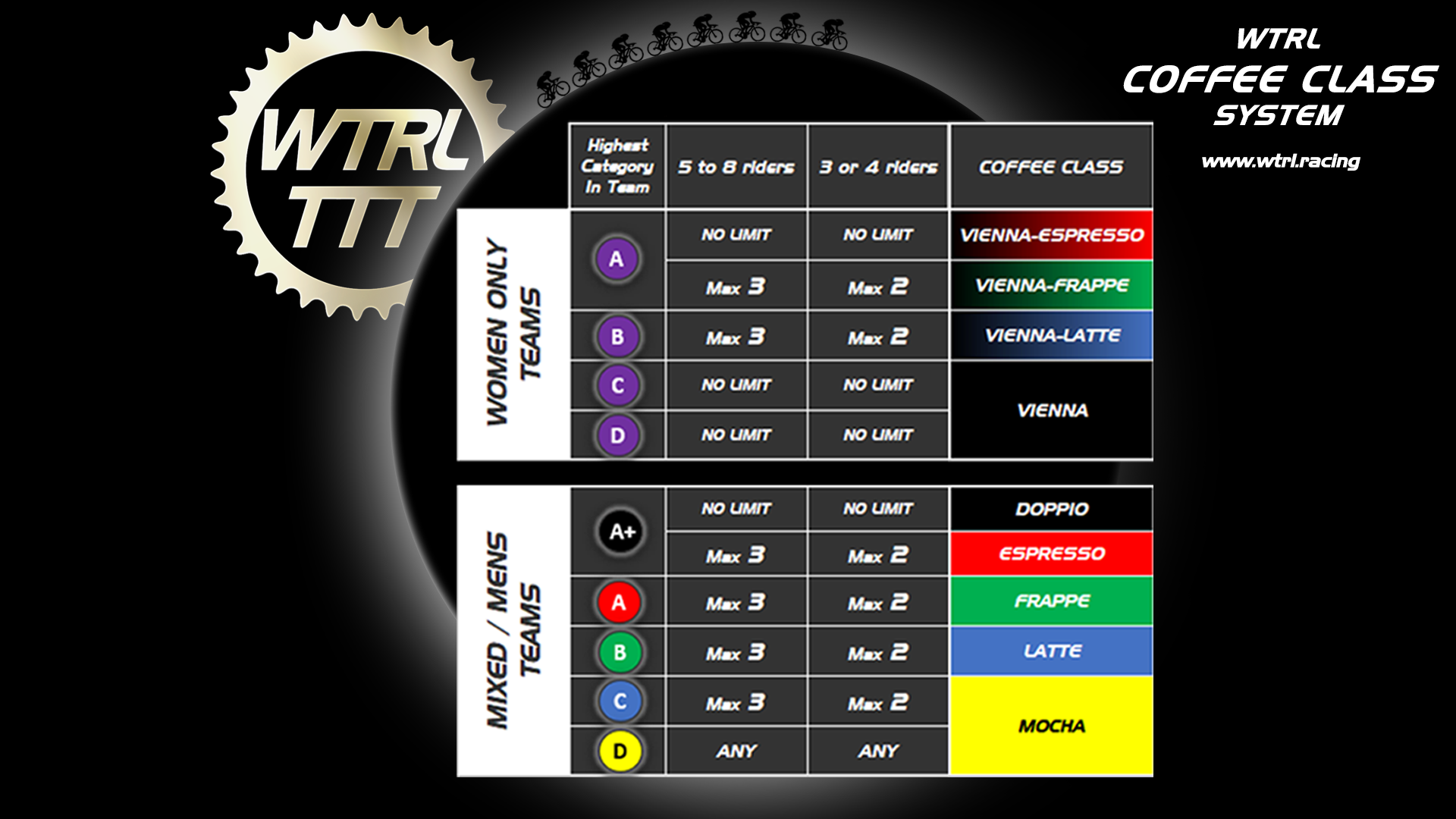 Last updated 24.03.2022
| TEAM NAME | WTRL TIMEZONE | CATEGORY | GENDER | MAIN TIMEZONE |
| --- | --- | --- | --- | --- |
| LUNA | 5-14 | VIENNA-FRAPPE | WOMENS | EMEA |
| ATHENA | 9-11 | VIENNA-FRAPPE | WOMENS | EMEA |
| AMALTHEA | 13 | VIENNA-FRAPPE | WOMENS | EMEA |
| ARTEMIS | 18-20 | VIENNA | WOMENS | AMERICAS |
| GAIA | 16-18 | VIENNA | WOMENS | EMERICAS |
| OUREA | 8-10 | VIENNA-MOCHA | WOMENS | EMEA |
| ZENITH | 2-3 | LATTE | MIXED | APAC |
| THEIA | 3-4 | LATTE/FRAPPE | MIXED | APAC |
| GALAXY | 5 | FRAPPE | MIXED | APAC |
| ANDROMEDA | 12 | DOPPIO | MIXED | EMEA |
| POLARIS | 12 | FRAPPE | MIXED | EMEA |
| HYPERION | 12-13 | FRAPPE | MIXED | EMEA |
| NOCTURNE | 12 | LATTE | MIXED | EMEA |
| HELIOS | 12 | FRAPPE | MIXED | EMEA |
| NEBULA | 9-12 | LATTE | MIXED | EMEA |
| TEMPEST | 13 | MOCHA | MIXED | EMEA |
| ATLAS | 13-15 | MOCHA | MIXED | EMEA |
| RHIANNON | 17-21 | VIENNA MOCHA | MIXED | AMERICAS |
| MIRA | 17 | FRAPPE | MIXED | AMERICAS |
| ORION | 18 | LATTE | MIXED | AMERICAS |
| NIMBUS | 22-25 | ESPRESSO/FRAPPE | MIXED | AMERICAS |
| STRATUS | 22 | ESPRESSO | MIXED | AMERICAS |