Origins
The Coalition was founded in January 2021 as a community project built around the elite Coalition Alpha team (then, Canyon Esports) which had launched exactly two years prior. Since launching the elite team, the first of it's kind in 2019, we had won every major competition there was to win. We also had the job of helping to build a racing scene that didn't exist at the elite level and to push Zwift to improve the standards of racing. Things like the mandatory use of direct-drive trainers, dual-recording and even DS pens were not around when we started, but all things we successfulyy lobbied for.
Despite winning all three of the first editions of the Premier League and a host of other races there was still the feeling that something was missing:
Whilst we had been busy developing this elite eracing team, everyone else had been focused on their clubs. So we came at it from the other direction – as where now all the other elite teams were coming out of the communities, our community was born from the elite team. Whilst there isn't any "right" way to do it, what it allowed us to do is to embed the ideals and vision for racing from the very beginning.
Rhys Howell, Founder of The Coalition & Coalition Alpha
The other great thing was that we had already established a strong brand with the elite team: an eclectic fusion of loud designs and louder music – inspired by a love of 90s rave culture.
Cycling pro-teams, cycling kits and their non-brands are objectively uncool. We were trying to do something that hadn't been seen before in any form of professional cycling. Also, in 2019, everyone thought that "eracing" was ridiculous and stupid. So we leant into that and considered it a sub-culture, just like the early rave scene had been. It's also why I made these newspaper props for the launch shoot inspired by the hysteria from the mainstream media when the rave scene exploded.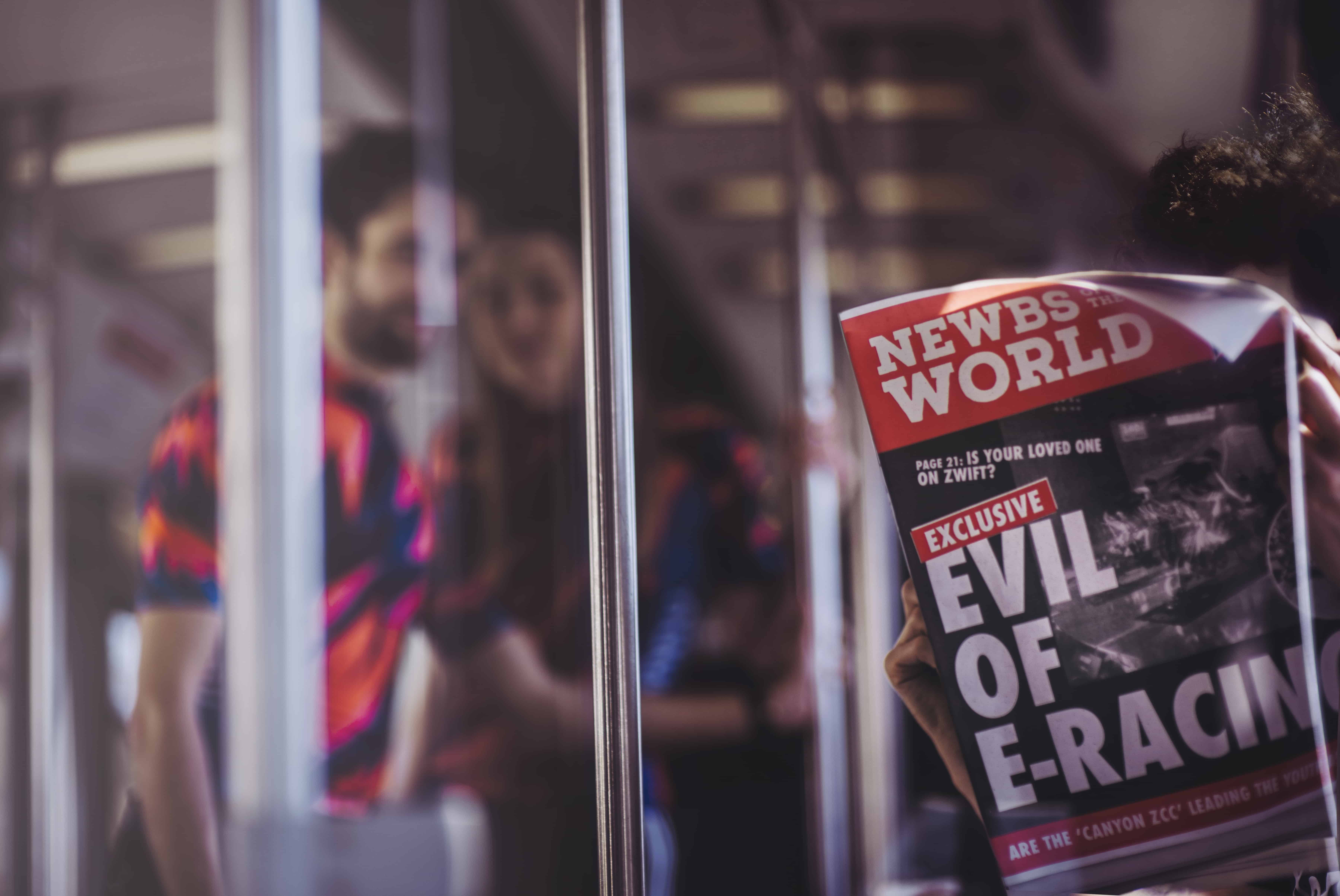 Building the community
The idea was to take everything that we had learnt from elite racing and apply it to the amateur ranks. Of course, this didn't mean having our own "ZADA" in-house or anything like that, but what came to be referred to as 'serious fun'. That is to say, that we are all here to have fun – but we still take our racing seriously. It's this balance that has made The Coalition a success.
After announcing the launch of the community, we had enough first few members to enter the second round of the of the ZRL. Somehow, we managed to put together five teams and kickstart the journey. Our first team kit was called the 'Canyon Devo 2020' jersey and had originally only been worn by the U23 development team that was launched in 2020. However, the original design had been sent to Zwift nearly a year earlier and had been intended as a 'fan kit' for those wanting to support the Canyon Esports team. So the fact that it eventually made its way into the hands of the Coalition riders was very fitting.
Over the course of the next two years, the Coalition would continue to grow rapidly, rising from obsurity to becoming the 16th biggest team on Zwiftpower and the 3rd biggest in the Zwift Racing League for number of teams entered. This collosal growth can be attributed to a few things:
Racing is in our DNA – we are the only community that was created by an elite eracing team.
We have a reputation for fair racing, and we do more than any other community to ensure our riders are racing fairly.
Our organisation is unparralled. Managing a large community with so many teams, racing around the clock and on multiple days of the week is not an easy task. But we have our processes down and that's helped a lot.
We have great people who make the community work. Without them, nothing would happen!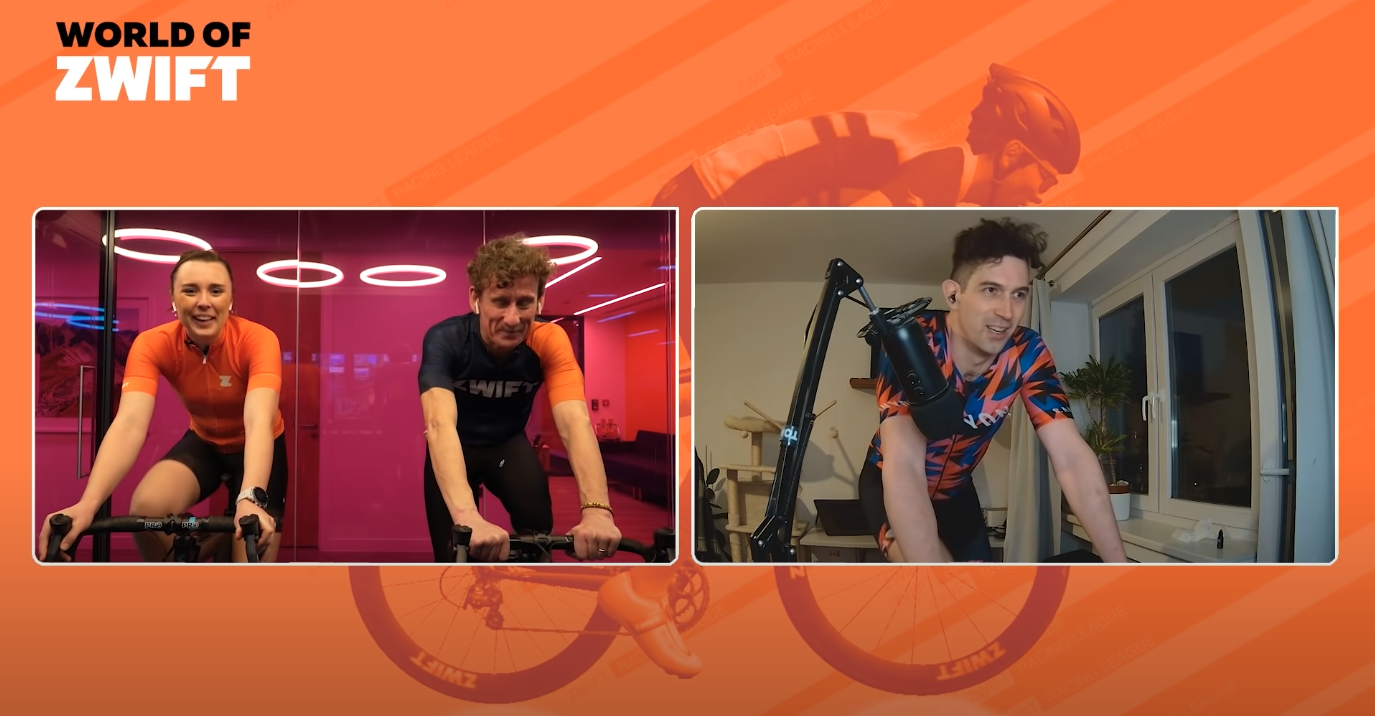 Rhys chats and rides with Matt Stephens and Hannah Walker to discuss racing tactics and what a DS really does
Our community continues to grow and thrive. We currently race in the ZRL, FRR, DRS, Ladder League and the weekly WTRL TTT. You can also find us on indieVelo, where our team kit is proudly worn by a dedicated group of riders. As many of our riders like meeting up IRL then we are also planning more meetups for those that want to put a face to the avatar!
If you are interested in joining us then head over to HOW TO JOIN for more info.
Our riders IRL
Here are a few snaps from our riders from around the world. It's amazing to see so many people meeting up and making new friends via our community.